Healthy eating

May 2023
A report from the World Wildlife Fund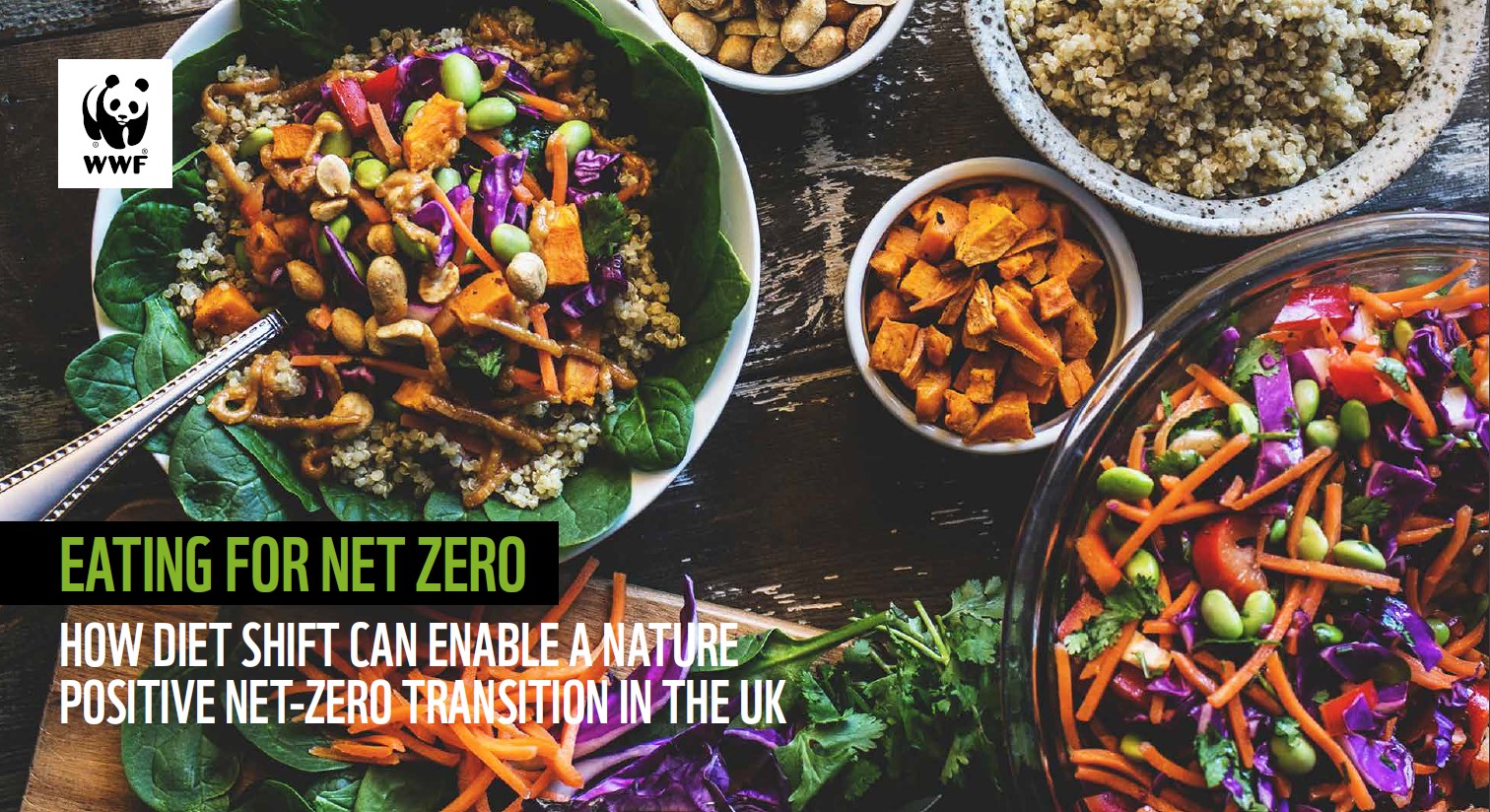 Eating for net zero: how diet shift can enable a nature positive net-zero transition in the UK.
In this report we show that it is possible to achieve healthy, sustainable diets for the UK population without deviating drastically from current consumption and without costing more. We also demonstrate how diet shift can play a meaningful role in supporting the achievement of national climate and nature targets.
This approach finds a unique combination of foods in the diet (in this case Livewell) that meet a number of constraints while staying as close to the current diet as possible.

Livewell diets
Livewell is our approach to healthy, sustainable diets. With Livewell you won't need to give up any food group. By focusing on plants – fruits, vegetables, pulses, and wholegrains – moderating your meat, dairy and eggs and eating fewer products high in fat, salt and sugar, you're reducing your impact on climate and nature and improving your health. What's good for you is good for the planet. That's the Livewell way.
-------------------------
April 2023
Explains the health and environmental benefits of eating seasonal food.
-------------------------
February 2023
Nourish Scotland February newsletter - 'Right to Food' report published
This newsletter sees the publication of the report of Nourish's 'Right to Food' project - 'The project worked with government agencies and community members to define a diet that is healthy enough, enjoyable and a good fit for people's lives.' There are summary and full versions of the report, and interesting details of the methods used in preparing it.
The newsletter also reports on highlights of the Oxford Real Farming Conference - 'the largest agroecological gathering on the planet.'
Read the newsletter (with links to the report)
A recent article in The Guardian sheds a disturbing light on the related issue of the affordability of healthy food by giving detailed evidence for the inadequacy of benefit levels in the UK.
-------------------------
November 2022
From the Skye Climate Action November newsletter
Eat for the planet - and your health!
Tim Spector is a doctor who specialised in the study of genetics applied to health and disease. Having carried out extensive research, he is an expert on diet and the microbiome, 'the large community of microbes that live in our gut, skin and body'. In our gut, these microbes plays a vital role in digesting food, regulating our immune systems and tweaking our brain chemistries through the chemicals they produce. Two articles written by Tim on healthy eating appeared in The Guardian just after our last meeting: The best diet for you and the planet and 18 foods to boost your health. Key take away:
"The single most important dietary factor we found for better gut health was the number of different plants we eat weekly, with 30 a week being the optimal number. That might sound like a lot until you realise that this also includes mushrooms, spices, nuts, seeds, herbs and legumes."