Activism and protest

October 2023
Experts warn against crackdown on climate protesters
UK has led the way, with countries across the continent making mass arrests, passing draconian new laws and labelling activists as eco-terrorists
The Guardian 12 October 2023
Damien Gayle, Matthew Taylor and Ajit Niranjan
Human rights experts and campaigners have warned against an intensifying crackdown on climate protests across Europe, as Guardian research found countries across the continent using repressive measures to silence activists.
In Germany, France, Italy, Sweden, the Netherlands and the UK, authorities have responded to climate protests with mass arrests, the passing of draconian new laws, the imposing of severe sentences for non-violent protests and the labelling of activists as hooligans, saboteurs or eco-terrorists.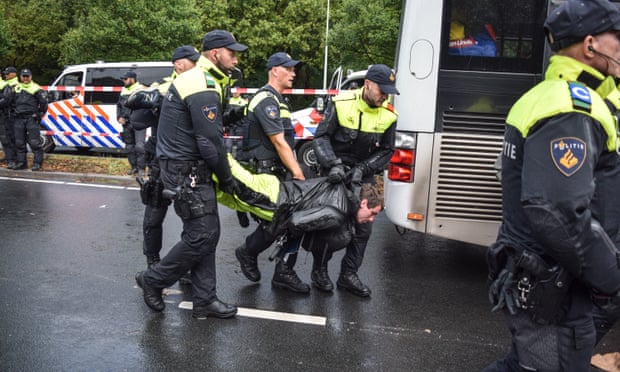 -------------------------
October 2023
'No more playing nice...'
Where now for front line climate activism?
The Ecologist October 2023 Jan Goodey
The need to bring more groups together in a broader coalition as the climate emergency hits ever harder means that younger activists are becoming even more intent on sweeping away the ineptitude and double-dealing of profiteering governance that seeks to pacify people using the divide-and-rule politics of yesteryear, writes Jan Goodey.
Just Stop Oil (JSO), This is Rigged and other actors are bringing accountable and non-accountable nonviolent direct action to counter this.
Just Stop Oil began its relentless campaign in April 2022 with a series of oil refinery shutdowns that dried up the forecourts of many of South East England's petrol stations.
Marching
It then moved on to closing down the M25 for a week, coinciding with the opening of the COP26 climate conference in Sharm El Sheikh in November of that year. Then came slow marching through London, day after day after day.
The group's demands are: no new oil, gas or coal licensing; free public transport; and retrofit insulation of all social housing. Following Insulate Britain's campaign a year earlier, there are now a number of small insulation co-ops forming around the country.
-------------------------