<<
Back
Cromarty Community Market
11 February 2023
Starts: 10:30
Ends: 12:30
Second Saturday of the month   10.30 - 12.30   Victoria Hall
See all Black Isle Community Market dates for 2023  here
Look for:
local food - veg, eggs, poultry, fish & shellfish, home baking, jams, chutneys etc
garden plants
crafts - jewellery, clothes, prints and cards, artwork, photography
hand-made soap
Any special events or offers will be shared via https://www.facebook.com/CromartyMarket 
To book a table or enquire about the market contact organiser Lauren Maclean at   cromartymarket@transitionblackisle.org 

Please also Like our  Facebook page  and let us have your comments, ideas and suggestions!
<<
Back
Gaia Foundation - Seed Gathering 2023
11 February 2023
Starts: 09:00
 Saturday 11 and Sunday 12  February   online
A collection of discussions, workshops and talks celebrating the diversity, opportunities and deep cultural connections of our seeds.
Join us for our second Seed Gathering! This is a weekend for celebrating the seeds we work with and the people who cultivate them; for sharing and learning; and for connecting across our local and international networks. We will be recording all the sessions so if you can't attend at the weekend you can catch-up at your leisure afterwards! What you can expect:
Keynote by journalist, broadcaster and author of award-winning Eating to Extinction Dan Saladino
Celebrations of the diversity of our seed and the communities who grow them
Legislation Action workshop in light of upcoming changes to UK seed legislation
Practical sessions on DIY low-tech seed machinery and record-keeping
Exploration into landrace gardening with Joseph Lofthouse
Tips on seed saving for market growers
...and much, much more!
Full schedule and more details on our website...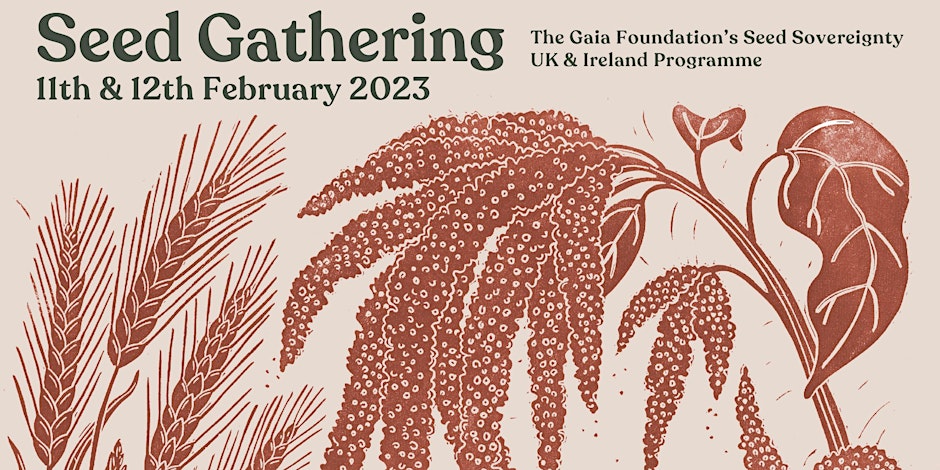 Event Partners
The Seed Gathering has been organised with support from four of our valuable allies – the UK Grain Lab, Hodmedods, the Organic Growers Alliance and the Custom Food Lab. Each of these organisations represents collaboration in key areas of inspiring, connecting, and generally making good stuff happen.
UK Grain Lab – an annual meeting of farmers, millers, plant breeders, bakers, cooks, scientists and academics providing an opportunity to bake together, eat, drink, learn from each other and talk about the future.
Hodmedods - works with British farmers to provide pulses and grains from fair and sustainable UK production.
Organic Growers Alliance -  is a network of growers, farmers and horticulturalists. The OGA is a peer-to-peer support network run by growers for growers as well as a place to exchange information and learn and it represents its members.
Custom Food Lab - is our arts prgrammine partner, joining as part of their Arts Council funded project Seeding the Commons, which explores art-making as a practice of commoning knowledge systems around food and growing.
Tickets
Due to the kind support of our funders, we've been able to offer tickets at a discounted rate. However, the conference is not free to run. If you are able, please consider choosing a subsidised or full price ticket, or even making a donation. All proceeds go to furthering our work in seed sovereignty in the UK and Ireland.